The number of theft of registration plates has increased exponentially in recent years. The defrauders resort to this method to face the installation of radars on the motorways.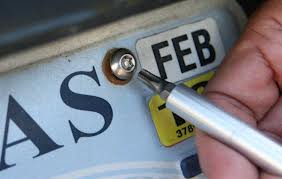 Thus, they do not receive a fine when they commit an offense, but it is indeed the owner of the usurped registration which out of scoop. How to deal with this plagiarism of license plates?
How do I know if its registration has been spoofed and how to respond
If you receive fine following infringement that you remember not to have made or that you can not to have made (in an area that you never visited for example), it may be a theft of your number plates.
It is necessary to go to the nearest police station and follow the following steps:
To make a complaint for theft of registration plates;
Challenge the fine and explain the reasons why you may be the wrong one (alibi's presence somewhere else at the time of the facts, brand car or different color, etc.);
Change registration in order to not again suffer this kind of constraint.
Risks
The fine can be spicy. In the event that you do not follow the above directions in this type of situation, you could lose all the points on your license, a fine of 30,000 euros and up to seven years in prison in the worst case. Also, it is important to react quickly while following the procedure indicated in order not to be the victim quiet and willing of the usurper.
Pieces to present to request for new registration certificate
Once the complaint is filed and the dispute of the fine carried out, you should ask a new registration for your vehicle. The latter will issue you a new certificate of registration (and thus a new number). You will need to:
An identification;
The Gray card of your vehicle;
A photo of the vehicle having committed the offense. You can recover it from the automated center for recognition of road traffic offenses;
The receipt of complaint;
A proof of residence.