Turns out to get money from the ATM can be dangerous, because there could be lurking thieves who want to seize your money unless you are given there.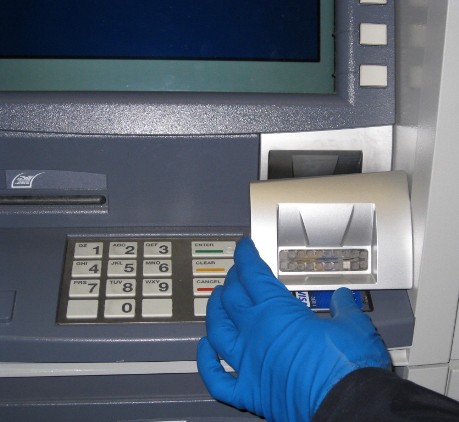 The thieves simply used a method that consists of installing electronic readers in these devices that capture the magnetic strips on cards of bank information, including data on the account of the victim, as well as its password. Later, criminals are dedicated to get money out from bank accounts.
Moreover thieves often install video cameras in the same booth, or near it, in order to record user passwords. Sometimes, instead of using a camera placed a fake keyboard above the original order to record all the keys that person press.
These devices are usually installed for a few hours, so thieves could use something as simple as a tape on both sides to stick to the ATM. Users inserted bank card in the fake reader and account information is captured and stored on a laptop, a mobile phone and it is transmitted wirelessly to criminals who are waiting in the surrounding area. Then they removed the devices and deposited the stolen information on blank cards then used to withdraw money from other ATMs.
To protect the FBI recommends the following:
Inspect the booth or the card reader before using it. Beware of devices with loose, crooked or damaged parts. Also be careful if you notice that the device has scratches or residues of adhesive tape.
When typing your password be sure to cover the keypad with your hand to prevent a hidden camera to record your password.
If possible, use an ATM located inside somewhere since criminals have less opportunity to install these electronic devices there.
If the machine does not return your card after the transaction or after pressing "cancel", immediately contact the financial institution who issued the card.
Do not hesitate to contact the FBI if you know someone who uses these methods to steal money from ATMs.