The process of finding and selecting a litigation attorney can be daunting, but it is an important task. The following tips will help you select the right litigation attorney for your needs:
Define your legal problem. Before you begin your search for an attorney, you need to have a clear understanding of your legal problem. This will help you narrow down your search and find an attorney with the appropriate experience.
Do your research. Once you know what kind of attorney you need, you can start doing research. Ask friends and family for recommendations, look up attorneys online, and read reviews from past clients.
Schedule consultations. Once you have narrowed down your options, schedule consultations with each of the attorneys on your list.
Research various litigation attorneys in your area to find one that matches your needs.
Ask for referrals from friends or family members who have previously used a litigation attorney.
Schedule an initial consultation with the attorney to discuss your case and get a feel for their personality and how they would handle your case.
Make sure you are comfortable with the attorney and that they are someone you can trust before making a final decision.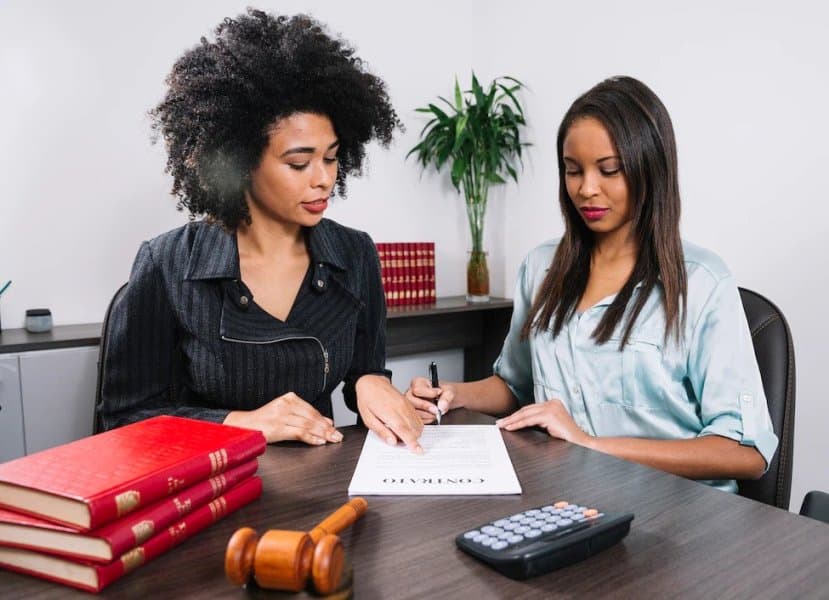 Image source: Freepik
What is the difference between a litigator and a lawyer?
The terms "litigator" and "lawyer" are often used interchangeably, but there is a big difference between the two. A litigator is a lawyer who specializes in taking cases to trial, while a lawyer can represent clients in both trial and non-trial settings.
Litigators are typically more aggressive than lawyers. This means that they may be more likely to take cases to court, rather than settling them out of court.
Litigators tend to have more experience with the courtroom setting than lawyers who focus on other areas of law. This experience can be crucial in ensuring a favorable outcome for their clients.
Litigators typically charge higher fees than lawyers who don't specialize in litigation. This is because the litigation process is often longer and more complex than other types of legal cases.
Finally, because they focus on taking cases to trial, litigators usually have less time to devote to each individual case than lawyers who handle both trial and non-trial matters.
If you're considering hiring a lawyer for your case, it's important to first determine whether you need a litigator or a lawyer who practices in another area of law. If your case is likely to go to trial, then you'll need a skilled litigator on your side.
What questions should I ask a litigation lawyer?
If you are facing a legal issue and are considering litigation, you should speak with a litigation lawyer. But before you do, it is important to know what questions to ask. This will help ensure that you find the right lawyer for your case and that you are fully prepared for what lies ahead.
Here are four key questions to ask a litigation lawyer:
1. What experience do you have with cases like mine?
You want to be sure that your lawyer has experience handling cases similar to yours. Ask about their track record in court and whether they have any specific experience with the type of legal issue you are facing.
2. How do you think my case will play out?
It is important to get an idea of how your lawyer thinks your case will progress. Ask them to outline the likely sequence of events and what they think the outcome could be. This will help you set realistic expectations and prepare for all eventualities.
3. What will be my role in the litigation process?
Many people feel overwhelmed by the thought of going through litigation. It is therefore important to understand what role you will play in the process and how much involvement you can expect to have. Your lawyer should be able to give you a clear overview of what will be expected of you so that you can make an informed decision about whether or not to proceed with litigation.
Why do lawyers choose litigation?
Litigation is the process of bringing a case to court and having it tried before a judge and jury. Lawyers choose litigation for many reasons, but some of the most common ones are listed below.
Oftentimes, clients come to lawyers with problems that cannot be solved through negotiation or mediation. In these cases, litigation may be the only option available to the client in order to get the relief they need.
For example, if someone has been wrongfully terminated from their job, they may need to file a lawsuit in order to get their job back or receive compensation for lost wages.
Another reason lawyers may opt for litigation is when the opposing party refuses to negotiate in good faith or comply with court orders. In these situations, taking the matter to trial may be the only way to get justice for their client. For instance, if one spouse refuses to pay alimony or child support that has been ordered by a court, the other spouse may have no choice but to go back to court and ask a judge to enforce the original order.
Additionally, some lawyers simply prefer courtroom dramas over negotiating settlements because it plays more into their strengths as advocates and gives them an opportunity to show off their skills in front of a judge and jury. While this shouldn't be the primary motivation for choosing litigation, it can certainly be a factor in some cases.
Ultimately, there are many reasons why lawyers might choose litigation over other options like negotiation or mediation. It really depends on each individual case and what will ultimately serve their client's best interests.
Conclusion
When you are dealing with a legal issue, it is important to have an experienced and knowledgeable attorney by your side. Different lawyers specialize in different areas of law, so it's important to choose one who has experience with your particular issue.