A strike is the cessation of work by part or all of the workers or employees of a company. This form of dispute often seems easy to implement. However, for a strike to be legal, it must meet several rules.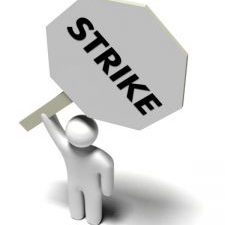 First, a strike must be a collective work stoppage. This means that you can not strike all alone or in isolation. For the strike to be legal, it must be that all workers, or at least a majority of participants.
You must strike for a professional reason (work conditions, threat of dismissals, etc) and not political.
Thus, you can not go on strike in solidarity with the employees of other company or the students for example.
For the strike to be legal, it is necessary also that the employer is informed by it before the beginning of the suspension of work.In the civil service, it is in particular necessary to give a 5 days strike notice with a serious reason and it is necessary that the strike is launched by a trade union.
Level methods, sabotage and go slow (slower production rate) is strictly prohibited by law.
Similarly, the strikers can not prevent non-strikers to work.
If one or more of these rules are violated, the employer may initiate legal action against the strikers.