A marriage is official only if it complies with several rules. Discover the steps and procedures to follow to achieve your civil marriage.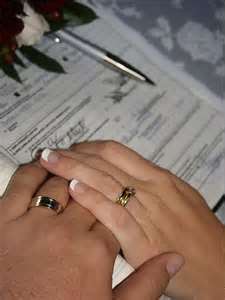 How to go to city hall to get married?
At the city hall:
The habitual residence of one or other of the bride and groom;
The new residence of one of the two if date at least one month.
Some city halls accept that the marriage to take place in the city of the secondary residence or the parents.
Who can marry according to law?
Age: 18 years. An exemption can be obtained in some cases (pregnancy, in particular) should be referred to the public prosecutor (attach a certificate of pregnancy). In this case, the authorization of the minor's parents is mandatory (the consent of one parent is sufficient);
Filiation: Certain family ties prohibit the marriage;
Situation: if there was a previous marriage, it must be dissolved through a process of divorce.
Documents required to marry at City Hall
Go to city hall to take a complete wedding, listing all the documents that are required to produce:
A certificate of honor of celibacy or non-remarriage;
A certificate of honor of residence (proof of residence or older than 3 months);
A full copy of the birth certificate dated less than 3 months or less 6 months if it comes from a consulate;
The list of witnesses together with a copy of their identity;
Identification document;
A certificate of the notary if the couple signed a marriage contract.
During this visit, consider the wedding date: according to the city halls, the date will be deducted from this initial contact; other municipalities do not stop the date when the file is completely filled.
Attention to the date of marriage: some months (May to July) are in high demand, it is necessary to fill out an application in advance (sometimes several months).
To prepare, possibly a marriage contract in-front of notary before marriage. The contract shall be delivered to the City Hall to be presented during the celebration.
When all documents are in the possession of the intending spouses, should return to the City Hall. It will arrange for the banns by posting. The marriage will be solemnized at the earliest 10 days after publication.
Some special cases
Widowed, divorced
Exhibit of the dissolution of marriage:
Widowers civil status certificate of the previous spouse;
Divorced: extract of birth certificate or marriage certificate with mention of divorce.