Generally, grandparents have a right of access and accommodation of their grandchildren. This right may be denied only for serious reasons. They also have an obligation to support their grandchildren in the need.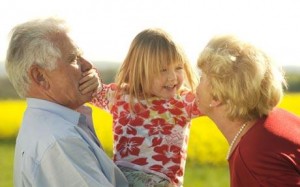 Rights of grandparents
Grandparents have visitation rights and accommodation of their grandchildren, but also the right to exchange correspondence with them and participate in their education as they do not replace parents.
These rights are valid:
In case of divorce;
In the case of a child born out of wedlock;
When the grandchild is adopted.
It may also happen that the grandparents are entrusted with the care of their grandchildren:
In case of divorce if the child can not stay in the home of one of the two;
If the parents are deprived of parental authority. In this case, the grandparents should respect the right of parents visit.
These rights can not be withdrawn by the judge for serious reasons.
In which cases the grandparents can't exert their rights?
The judge may deny grandparents' visitation and accommodation their grandchildren if:
The child himself refuses to see his grandparents;
The relationship between the parents and the grandparents is very bad and is likely to disturb the child by making it evolve in a climate of crisis;
A meeting between the child and his grandparents introduces a dangerous character for him;
The grandparents are apparently incapable to be in charge and to watch the child properly.
Can the parents prevent the relations of the child with his grandparents?
The father and mother may not, except on serious grounds, to interfere with a child's relationship with his grandparents.
If no agreement can be reached amicably between the parties, the relations are governed by the Family Court. This situation may occur in cases of divorce, parents of the spouse who did not get custody of the child.
This also happens outside of a divorce when, without good reason, the grandparents are prevented from having normal relationships with their grandchildren.
Who decides in case of conflict between parents and grandparents?
This is the family court judge of the High Court on which the residence depends on the child who rules.
It first examines the interests of the child and may order a measure of social investigation before making a decision. It can also hear the child and must do so if it makes the request to the high court or family court after the divorce.